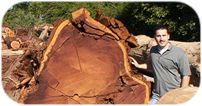 Supplier of dimensional lumber:

· Redwood
· Douglas Fir
· Hem Fir
· Incense Cedar
· Western Red Cedar
· Ponderosa Pine
more information



We keep one of the largest inventories of poles and stakes on the ground across 5 locations with the intent of having it ready for prompt shipment.

more information

NewAg

(Natural Eco-friendly Wood for Agriculture)

posts are naturally durable and preservative treatment is not necessary. They are posts milled out of Western Juniper, Western Red Cedar, and Redwood trees and have none of the disposal problems associated with treated wood and steel.

learn more

Split Western Red Cedar palings, posts, rails, and grape stakes are both beautiful and durable. The durability comes without chemical preservatives since the heartwood of red cedar has its own resins, tannins and oils that make it highly resistant to rot, insects, and decay-causing fungus.

learn more

We distribute our products into Northern Nevada, and the Northern and Central parts of California.

We ship to Washington, Oregon, and the Southern parts of Nevada and California less frequently,

but we can ship full truckload orders to all 48 of the Contiguous United States.

C&R Forest Products was started as a partnership in 2003. We sell our products for RESALE only. As a wholesale distributor, we supply roundwood, stakes and lumber in large quantities to be retailed by lumber retail yards, farm supply & ranch supply stores, and remanufacturers of wood products. We do not bypass our customers to sell directly to contractors or the general public.